Fed Speakers Dominating the Week Ahead
A heavy lineup of Fed speakers follows after the FOMC blackout period ends. Their guidance is key to financial markets participants following the FOMC statement.
The week ahead is marked by Fed speakers lining up to offer more explanation behind the split for raising rates in 2022. After last week's FOMC statement and press conference showed a hawkish Fed, it is time to find out more details from the Fed members.
The U.S. dollar declined following the FOMC statement and press conference from last week, despite the fact that the Fed delivering a hawkish message – the tapering of its asset purchases is expected sooner rather than later, and a rate hike in 2022 is likely. One may say that the forward guidance provided by the FOMC in the past helped, but now it is time to see what the Fed members expect next.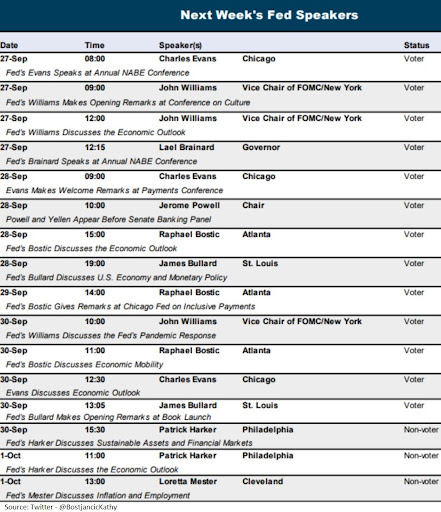 Fed Chair Powell Testifies This Week
The trading week starts on a strong note, with four Fed members scheduled to speak today. However, the market participants will focus on Fed Chair Powell's testimony in front of the U.S. Senate Committee on Banking, Housing, and Urban Affairs. He will testify on Tuesday about coronavirus and the CARES Act and will likely touch sensitive topics for markets, such as inflation and the asset purchases programs.
One day later, he is due to speak at the ECB Forum on Central Banking. With the heads of Bank of England, Bank of Japan, and European Central Bank, Powell participates in a panel on central banking – the most important event for currency traders this week. If we add to this the fact that the end of the trading month is this week, then financial markets' volatility is poised to increase significantly in the days ahead.