Eurozone Manufacturing PMI Remains Strong Despite Loss of Momentum
The Eurozone manufacturing sector continued to expand in July, albeit at a slower pace. The data came close to the market's expectations, showing further expansion in the sector.
The Non-Farm Payroll (NFP) week starts with the manufacturing data in Europe and the United States. In the Eurozone, the PMI (Purchasing Managers' Index) survey showed further expansion of the manufacturing sector.
When the monthly data is above 50, it shows a sector where the activity expands. On the contrary, when the PMI declines below 50, the activity contracts. Values bigger than 60 are also seen with skepticism. They show an economy that may be in danger of overheating, thus requiring some measures from the monetary policy decision-makers to cool it down. In other words, sustained economic growth requires the PMI between 55 and 60 – as suggested by the consensus among economists.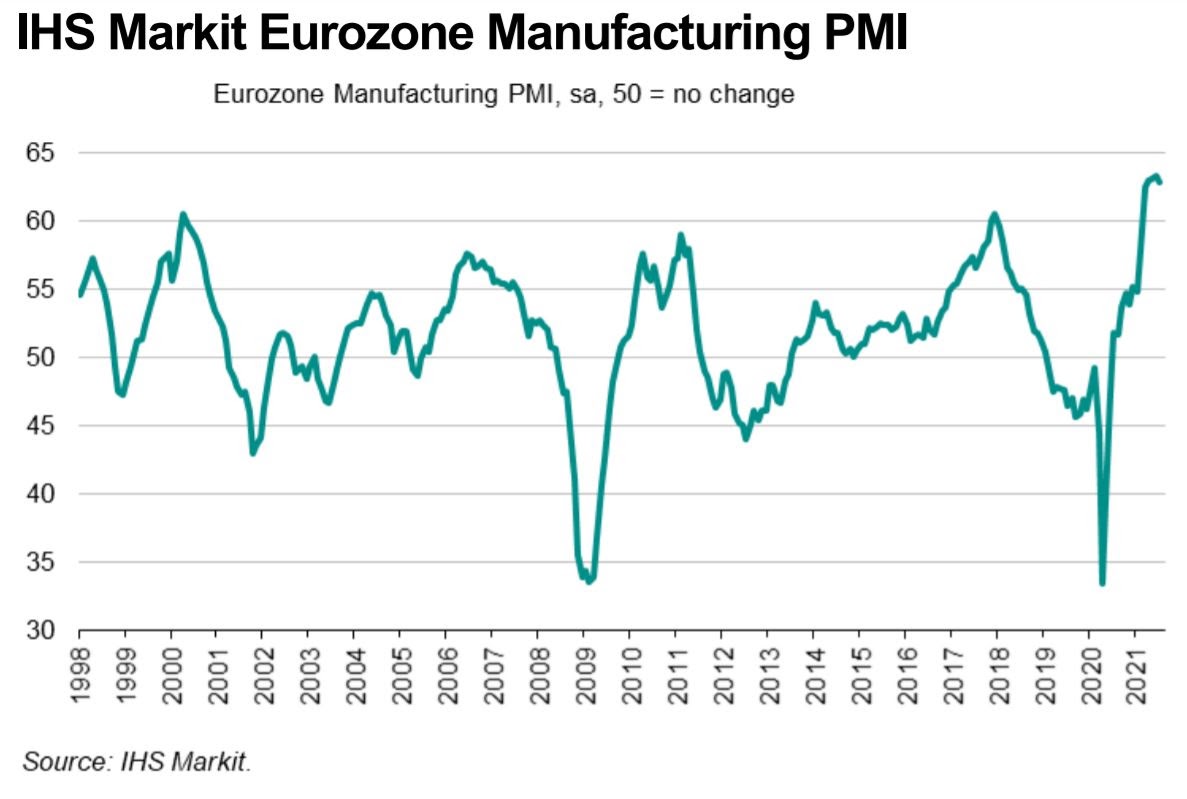 Details of the July 2021 Eurozone Manufacturing PMI Survey
The PMI is a survey of about 3,000 purchasing managers in Europe and is a leading indicator of economic growth. In July, the employment rate rose at a survey-record pace even though the output and growth rates slowed. Also, supply chain disruptions led to inflation reaching new highs.
Across countries, some discrepancies are visible. Most notably, the German manufacturing PMI for the month of July came out at a three-month high, while the PMIs in the Netherlands and Spain were at a three-month low.
The final reading of the PMI is slightly higher than in the previous month (62.8 vs. 62.6) but down from the previous 63.4. Yet, the overall rate of expansion was still notable.
The record-breaking expansion in the second quarter cooled down at the start of the current quarter. However, the manufacturing sector is in a healthy shape, as reflected by the strong economic component.
Investors are aware that the Eurozone economy is a service-based one. Therefore, the services PMI survey is more relevant for interpreting the Eurozone economy because it has a bigger impact on the final GDP (Gross Domestic Product) numbers.
All in all, this is a strong number for the Euro area manufacturing PMI, one that supported the euro pairs close to their last week's highs – EUR/USD close to 1.19, EUR/JPY above 130, and EUR/AUD above 1.61.