Eurozone Inflation Hits Ten-Year High One Week Ahead of the ECB Meeting
Eurozone inflation reached 3% in August, up from 2.2% in July. This is a ten-year high for the prices of goods and services in the Eurozone. Germans load up on physical gold.
Euro area annual inflation rose to 3% in August, the highest in one decade. Energy prices led the move higher, followed by non-energy industrial goods, food, alcohol & tobacco, and services.

Next week, the European Central Bank (ECB) is expected to hold its regular meeting, and traders view the latest inflation data as bullish for the common currency. The EUR/USD rose well above 1.18 on the release, and the EUR/JPY regained the 130 level.
The expectations are that the ECB will announce a reduction in the asset purchases, too, following last week's Fed message. If that is the case, investors view it as a possible hawkish move for the euro, hence the bounce higher in the main euro pairs makes sense.
Germans Load Up on Physical Gold
In Germany, rising inflation triggers a run into physical gold. Commodities are alternative investments used by long-term investors to hedge against inflation.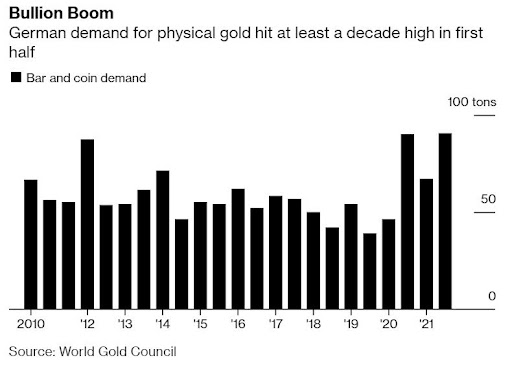 German demand for yellow metal increased significantly, reaching a decade high in the first half of the year. The real yield in Germany (defined as the 10-year German bund less the inflation rate) has plunged to a new all-time low in August as inflation in Germany jumped to 3.9%. August was the 64th consecutive month with negative real yields in Germany, thus explaining the population's appetite for alternative investments.
Just like the Fed in the United States, the ECB sees rising inflation as being temporary. The central bank focuses on the core data, which excludes energy prices, and we see in the headline data why it does so.
The core inflation rose to 1.6% in August, but the ECB will likely be in no rush to alter financial conditions even if the core inflation remains above 1.5% in the period ahead. All in all, the ECB should start debating how it will phase out the stimulus but don't expect a fast removal of the accommodative conditions.