European Economic Activity Picks Up, Spurred by High Vaccination Rates
Economic activity in Europe picked up over the summer, supporting the common currency. By delaying its decision on asset purchases to December, the ECB paved the way to a weaker euro.
Europe may have had a sluggish start in vaccinating its population against the COVID-19 virus, but it did accomplish its target – vaccinating 70% of its adult population by the end of the summer. Few places in the world can say the same, and the economic benefits start to pay off.
Over the summer, the Euro 2020 football tournament led to increased consumer spending. Europeans flooded the Southern beaches in Greece, Spain, Italy, or France. Therefore, tourism over the summer months resembled the levels before the pandemic.
As revealed by the July 2021 data published this week by Eurostat, the European statistical office, even industrial production picked up across the continent – up by 7.7% in the Euro area and by 8.3% in the EU.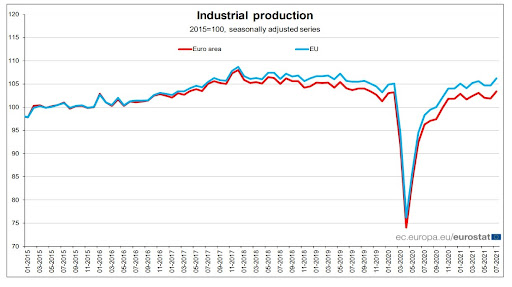 Positive Economic Data Supported the Common Currency
Last week, the European Central Bank (ECB) delivered its monetary policy statement. During the press conference, Christine Lagarde, its President, acknowledged the strong momentum behind the economic activity as the ECB staff upgraded the growth estimates.
All in all, it was a smooth day for the ECB and the euro. Markets reacted well, as stocks moved higher and bond yields were slightly down. A similar sentiment persisted over the summer as the common currency was bought across the FX dashboard.
But that may come at an abrupt end. The currency market is made of currency pairs expressing the value of one currency in terms of another. Moreover, the ECB made it clear that the December meeting is the one that matters for removing more stimuli, and so, there is a big build-up for other central banks to do so before that.
In other words, the common currency may suffer, despite the strong economic performance across the continent. Therefore, as always, currency traders must pay attention to all details before placing a trade.