Employment Improves in America, but Inflation-Adjusted Compensation Fell
Real worker compensation declines in the United States, despite a pick-up in wages. Workers see their earnings eaten up by the rising inflation.
This week's main event is the Non-Farm Payrolls (NFP) release on Friday. The Federal Reserve (Fed) made it clear that it will not alter its policy until both the employment and price stability mandates are fulfilled.
While inflation is running well above the Fed's target, there is still room for improvement in the labour market. More precisely, a close look at the unemployed workers per job opening shows us that, while the number is falling, it remains higher than the pre-pandemic level. Hence, there is room for further improvements.
Moreover, although compensation caught up with the pre-pandemic trend, worker pay has actually fallen in 2021 when adjusted for inflation. As such, businesses will still have a hard time finding workers until the compensation exceeds the rise in inflation.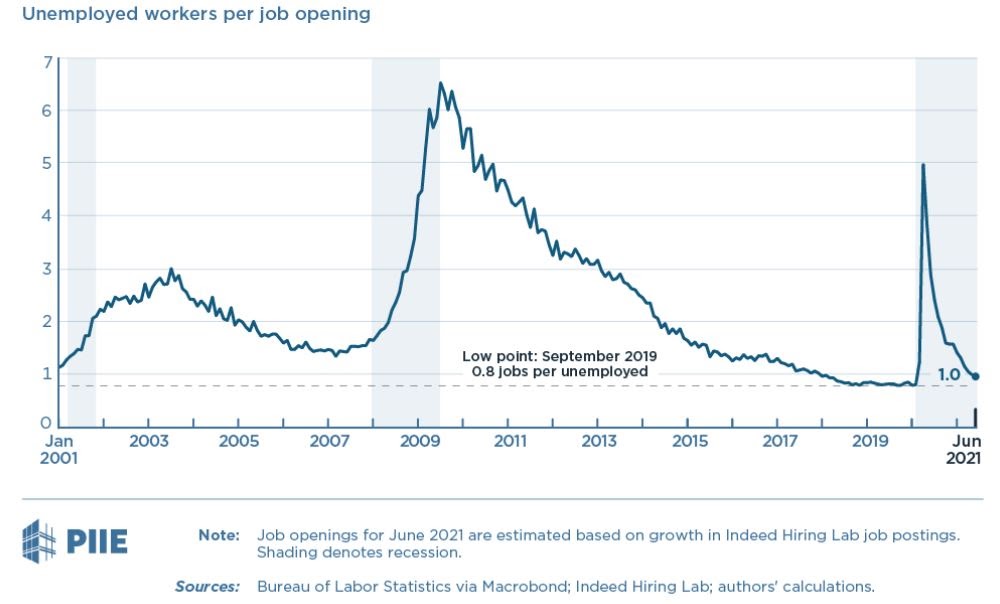 Real Worker Compensation Fell Below Pre-Pandemic Levels
The pay adjusted to reflect the price changes has increased during the pandemic, but the trend has reversed recently. Because the inflation rate has exceeded the wage increase, workers end up earning less in real terms, despite wages rising in nominal terms.
Simply put, a civilian worker's pay buys fewer goods than it used to three months ago, despite the worker earning more. As the central bank is in no hurry to adjust the monetary policy to reflect the rise in inflation, the gap is likely to persist in the months ahead.
Therefore, when interpreting the NFP report next Friday and the detailed data for July, one should consider inflation and how it affects the increase in the Average Hourly Earnings (AHE). As long as the inflation rate exceeds the AHE's increase, workers will earn less than before the pandemic, and they will be in no hurry to fill the record number of job openings currently in America.
To sum up, the NFP report due to be released at the end of the trading week should be analysed beyond the headline numbers. Only a decline in the number of unemployed workers per job opening below pre-pandemic levels will get the economy closer to full employment and the Fed closer to tapering the asset purchases.