ECB Recalibrates the PEPP Program, Euro Unphased By the Decision
PEPP (pandemic emergency purchase programme) recalibration begins at the European Central Bank (ECB). The central bank reduced its emergency purchases and emphasized the importance of the upcoming December meeting.
The ECB delivered on market expectations regarding the slowdown in the pace of asset purchases under its emergency program (i.e., PEPP). It slowed down the pace to EUR 50-60 billion per month in response to improvements in financial conditions and an upbeat economic outlook. And, to rising inflation.
The actual event, formed by the interest rate announcement and the press conference, turned out to be pretty quiet for financial market participants. The EUR/USD entered the event at 1.1830 and it traded around the same level by the time the press conference ended.
Yet, the bearish bias persisted throughout the trading week and day. The pair dropped one hundred pips from last week's Non-Farm Payrolls report highs and found strong support at the 1.18 level.
ECB's Message – Hawkish or Dovish for the Common Currency?
Purely interpreting the ECB's decision, the slowdown of the asset purchases is hawkish for the euro. The removal of accommodative conditions should support the currency on dips.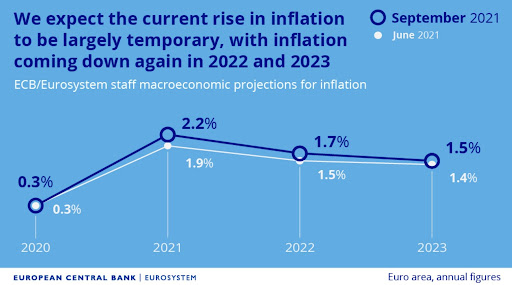 But, market participants do wonder why the ECB reduced the purchases when inflation expectations in 2023 are still below the central banks' target. The logic is that the central bank will transfer the asset purchases under the pandemic emergency program to its asset purchases program in order to bring inflation to its target. Because the ECB emphasised the importance of the upcoming December meeting, the bias is that the announcement will be made then.
Because of that, the market's reaction to the ECB message was dovish, not hawkish for the euro. It is simply a recalibration of the tools the ECB has at hand – but the stimulus remains on the table.
Next key levels for the EUR/USD – 1.1650 to the downside, 1.1950 to the upside.