ECB Meeting Preview – Tapering Unlikely
The European Central Bank (ECB) meeting is scheduled for later today, and it represents the main event of the week for financial markets.
The September ECB interest rate decision and press conference are here. Market participants have speculated the entire summer about the ECB's next move and the focus today sits on the reduction of the assets bought under the PEPP – Pandemic Emergency Purchase Programme.
At today's press conference, investors look for the ECB to give guidance on the pace of net purchases. The central bank purchased EUR 65 billion in securities in August, and then the pace increased to EUR 80 billion under the central bank's new guidance. But slowing down the pace of assets buying should not make a difference to markets. After all, nearly everyone expects a slowdown in the pace of asset-buying in the fourth quarter. In other words, the move is already priced in.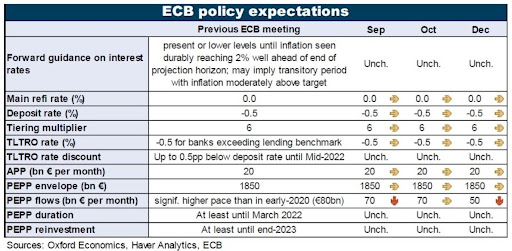 Euro Supported by Possible Upward-Revisions to Growth and Inflation
The common currency lost most of its recent gains. It fell one hundred pips against the U.S. dollar after failing to hold above 1.19.
Buyers still like the euro because the ECB's staff projections cannot ignore the positive economic developments in recent weeks. Therefore, investors expect upward revisions to the growth and inflation outlooks. Because the ECB has an inflation-targeting framework, slightly higher inflation should be a net positive for the common currency because it implies the ECB will commence policy tightening.
The risk of today's meeting is skewed to the downside for euro traders. The likelihood is that the ECB will signal that the time for tapering has not come yet, but some market participants disagree.
All in all, you may expect the volatility of the euro pairs to rise significantly today. That is especially the case if the ECB delivers a dovish surprise.