Crude Oil Price Rises on Falling Inventories
Global crude oil inventories decline, fueling a rally in the crude oil price. October OPEC meeting looms large as demand for oil rises further.
The year 2021 brought a massive rally in the price of oil. As the world's economies reopened after the shutdown triggered by the COVID-19 pandemic, the oil demand increased drastically.
As such, the price of oil rallied, reaching as high as $77 during the summer. But recent developments suggest that the crude oil price might make a new high for the year, given the rate of decline in global crude inventories – 3 mbd, the highest rate on record.
Moreover, the winter did not even start in the Northern hemisphere, where the largest economies in the world are. Therefore, conditions align for further upside in oil price, explaining its resilience to correct more.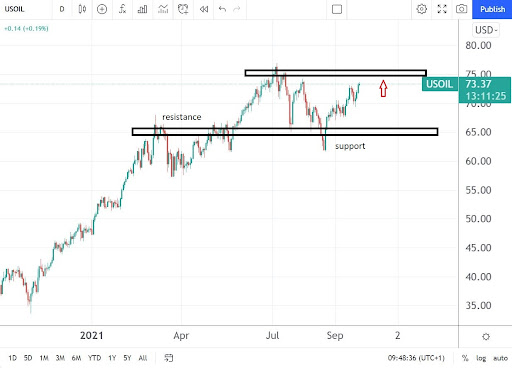 What Lies Ahead for the Crude Oil Price?
The oil market is essential for currency traders because of its implications for monetary policy decisions and its direct correlation with the so-called commodity currencies (e.g., Canadian dollar, Mexican peso). If the oil price makes a new high for the year, the expectations are that inflation will keep rising, pressuring central banks to act, and commodity currencies will be in strong demand in the months ahead.
From a technical analysis perspective, the price action looks constructive. The WTI crude oil price bounced from strong support seen at $65 and now threatens to make a new higher high above $77. Fundamentals also help, as a new yearly high for the WTI crude oil price is not out of the question.