COVID-19 Pandemic Led to the Strongest Ever Commodity Rally
Commodity rally is strongest compared to prior climbs during global economic recoveries.
This week it is all about U.S. inflation and, because of that, it is worth looking at what happened to commodities, as they are a hedge against rising inflation. The U.S. inflation is expected to print 5.2% YoY in September, and the data is out tomorrow. As such, commodity prices should reflect the rising inflation by climbing more than usual.
Indeed, the commodity rally during the economic recovery is the strongest ever compared to other climbs during global recoveries. A quick look at the commodity spectrum shows natural gas leading – the price is up by 141% over last year. Other energies follow – heating oil 120%, WTI crude oil 101%, Brent crude 100%, and gasoline 93%.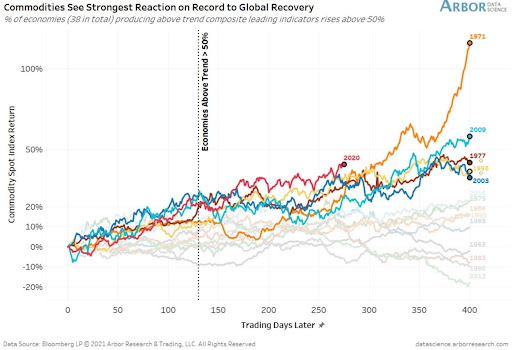 Food and lumber prices are also higher compared to a year ago. Coffee is up 79%, sugar 46%, corn 42%, wheat 27%, and soybeans 22%. Finally, aluminium and copper are up, 64%, respectively 42%.
Precious Metals Diverging
Interestingly enough, all the commodity classes mentioned above are not traditional hedgers against inflation. Instead, precious metals served that purpose for many years.
This time, they diverge completely as gold, silver, and palladium prices not only did not rise, they fell over the past year. As such, gold is down by 8%, silver as well, while palladium is down by 22%.
Precious metals respond to the rise in the Treasury yields. It could also be that declining precious metals prices confirm the central bank's view that inflation is transitory. In any case, this week, market participants will have more details about this relationship, as U.S. inflation is due out tomorrow.