Contrarian Signal Suggests Continued U.S. Dollar Strength
U.S. dollar strength is likely to continue as suggested by commercial hedgers short Dollar Index (DXY) futures. Whenever commercial hedgers are net short and in the bottom tenth percentile of historical readings, it represents a contrarian indicator pointing to further U.S. dollar strength.
The Dollar Index (DXY) is trending higher in 2021 despite ending the previous year at lows. Perhaps the best example illustrating the dollar's rally comes from the EUR/USD exchange rate, down significantly from its opening levels at the start of the year to the current 1.16 area.
The euro is a big part of the DXY, making up more than half of the index's weight. As such, the two are closely correlated.
Whenever any market drops significantly, as the EUR/USD did in 2021, traders are tempted to buy it. Any bounce suddenly looks like a bottom, and contrarian traders keep looking for reversal patterns, such as falling wedges, bullish engulfing, or inverse head and shoulders.
But the EUR/USD kept moving lower and the DXY higher. The trend is likely to continue, at least if we judge by the commercial hedgers positioning.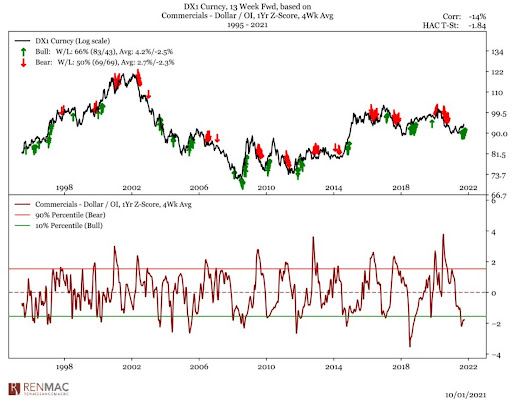 What Is a Commercial Hedger?
Commercial hedgers are companies that take positions in the futures market, and they typically operate in the commodity markets. For example, a commercial hedger may buy futures contracts to secure the price of a commodity needed at a later date.
But commercial hedgers operate in the currency market, too. Their short DXY exposure reached extreme levels. In the past, this represented a contrarian signal. More precisely, the U.S. dollar's rally continued instead of dissipating.
Ahead of the all-important Non-Farm Payrolls release this coming Friday, the EUR/USD remains under pressure if we judge by the commercial hedgers' positioning. If we see a decent jobs report, we also expect the U.S. dollar to make a new leg higher.