Bitcoin Regains the $50,000 Level on Strong Demand for Digital Assets
Bitcoin's rally extends beyond $50,000 as digital assets are back in fashion. Will investors push the price to a new record high?
Bitcoin is back in fashion as investors bought the dip into the $30,000 level. After the market broke above the upper edge of a triangle that acted as a reversal pattern, it did not look back anymore.
Naturally, Bitcoin traders have their eyes on the record-high levels again. Back in the first half of the year, and especially after Tesla revealed its $1.5 billion investment in Bitcoin, the price of one digital coin rose to $65,000.
It corrected all the way down to $30,000, where it found strong support. The move higher comes as a confirmation that investors still like digital assets, and Bitcoin's strength may continue as inflation fears mount.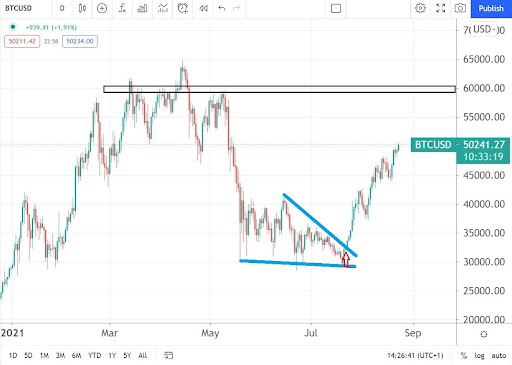 Commodities are viewed as a hedge against inflation. Gold, for instance, has been the perfect hedge over time, but now it has real competition in digital assets.
Bitcoin started the trading year close to $30,000 and now is up almost 80%. Gold underperformed, once again, just like it did in the second half of the last year. Therefore, investors looking to protect their portfolios against rising inflation levels may find Bitcoin and other digital cryptocurrencies more appealing than the traditional hedges against inflation.
Bitcoin Mining – An Environmentally Sustainable Industry
Digital assets are part of many brokerage houses' offering, eager to attract new customers. The rise of digital coins brought some tectonic shifts to the traditional financial industry, as the younger generation of traders embraced Bitcoin and blockchain.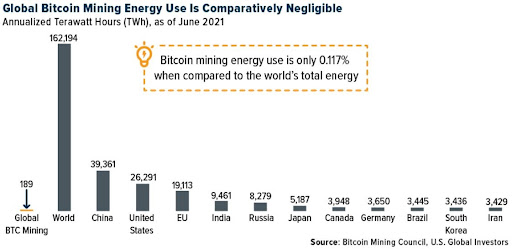 Bitcoin's decline from record highs in the first half of the year came as the result of comments from Tesla's CEO, Elon Musk, regarding its energy use. Bitcoin mining is an energy-intensive industry, but, as it turns out, the energy use is comparatively negligible when interpreted as a share of the world's total energy.
The Bitcoin Mining Council was created earlier this year with the purpose of monitoring energy uses among Bitcoin miners. Transparency is key to investors in any market, and Bitcoin fans welcomed the move.
Moving forward, digital assets are likely to continue their rally. Bitcoin, for instance, is viewed the same way as the Internet was in 1997 – few truly understood its potential back in the day. If that is the case, the use of the digital coin will increase sharply, along with the tailwind behind its price.