Bitcoin Reacts to Round Numbers – Is $60,000 Possible?
The U.S. stock market correction in September did not impress Bitcoin bulls. The price of one Bitcoin reacts to round numbers, finding support at $40,000 and resistance at $60,000.
The main theme of the trading year is a stronger U.S. dollar. The dollar gained against its G10 peers, supported by rising oil price (the U.S. is a net oil exporter) and the Fed's forward guidance regarding the removal of its accommodative measures.
But the U.S. dollar gains were not generalised. It may have gained against gold, for instance, but not against Bitcoin. Bitcoin reached a five-month high this week, unimpressed by the U.S. dollar's rally. Moreover, Bitcoin decoupled from the risk-off move that we saw during September. Simply put, it simply trended higher.
A curious thing about Bitcoin is how it reacts to round numbers. The $10,000 proved to be a difficult one to overcome as Bitcoin struggled to break higher for more than one year.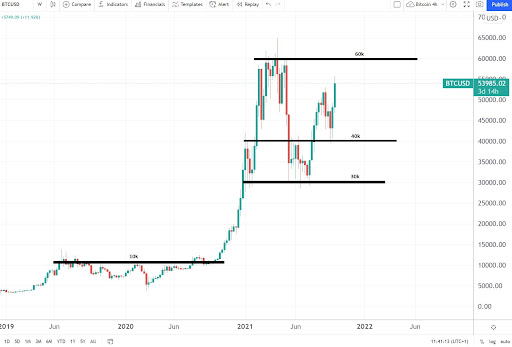 A break higher did come eventually, and Bitcoin did not look back all the way until it reached $60,000. It did hesitate for a couple of weeks, trading between $30,000-$40,000, but nothing more than that. The two levels acted as strong support on the decline from the $60,000 resistance, and now the price action is bullish, and another attempt at the highs should not be discounted.
What Makes Bitcoin Attractive?
Investors have always tried to find the highest possible yield for their investments. But in September, for example, 85% of the U.S. high-yield bond market had yields below the annual inflation rate. Moreover, real yields elsewhere followed the same path.
Finally, the S&P 500 dividend yield sat at nearly 20-year lows in September. As such, investors are willing to take a higher risk (crypto markets are known for their high volatility) and bet on digital assets such as Bitcoin.