Bitcoin Jumps to Multi-Months High Despite Regulatory Fears from the United States
Bitcoin jumped more than 4% on Monday, reaching its highest level in months. The digital asset traded above $45,000 despite some regulatory fears from the upcoming infrastructure bill and a stronger US dollar.
The cryptocurrency market is on fire as Bitcoin bounced from below $30,000 to reach multi-month highs above $45,000. The rise in digital assets is even more remarkable as regulatory fears in the United States might hurt the mining business.
Moreover, the strength comes in the context of gold sliding more than $100 at the start of the trading week. It appears that investors are shifting from the traditional hedge against inflation to Bitcoin as the digital coin is viewed as offering similar protection (or better?) to an investment portfolio.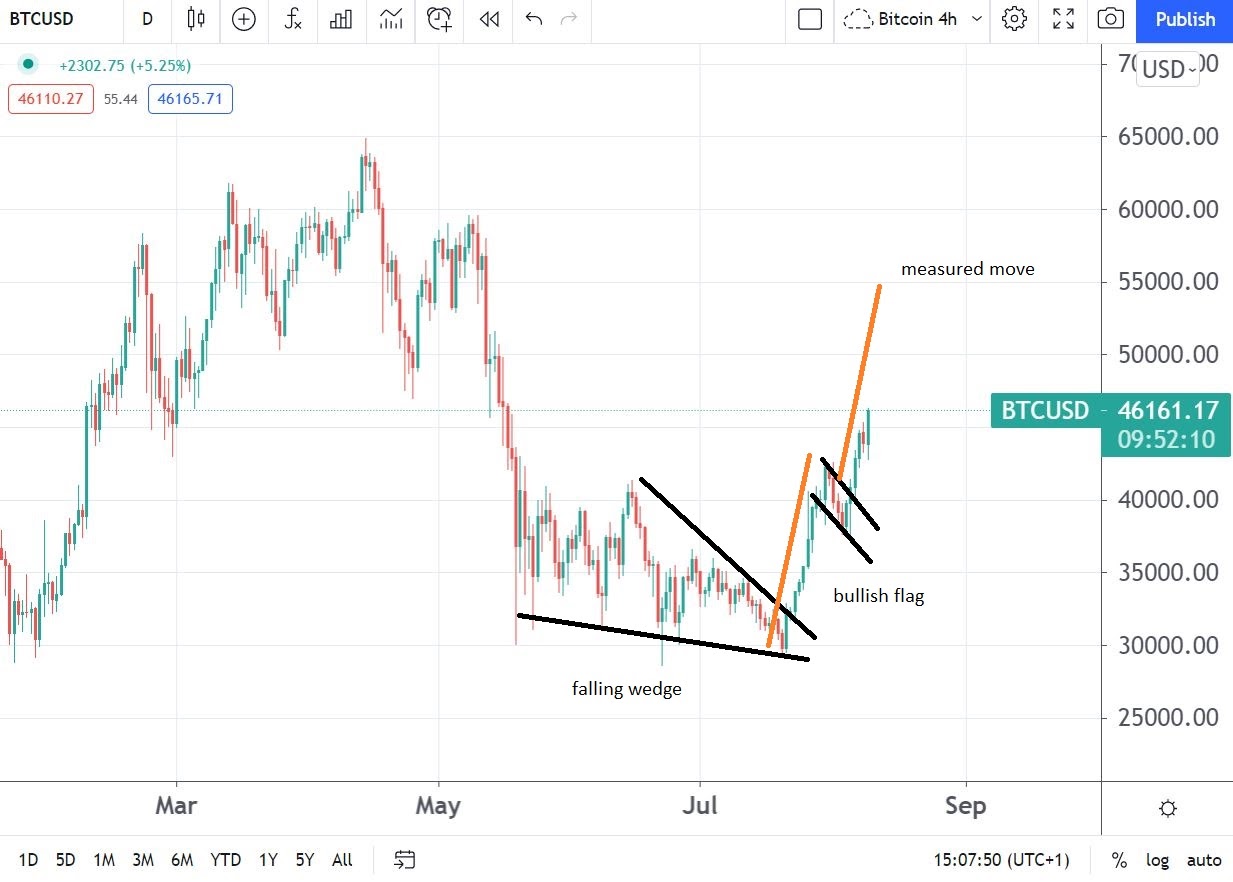 Upcoming Infrastructure Bill Might Mean the End of the US Cryptocurrency Mining
Bitcoin investors do not fear the upcoming infrastructure bill in the United States, although some of its provisions would likely call for more regulation in the crypto space. The bill is set to contain language to help define the word "broker" to include companies involved in the cryptocurrency market. If that is the case, the reporting requirements imposed on such companies might hurt the cryptocurrency mining industry in the United States.
Despite the risk, Bitcoin is surging across the board. The move higher is even more surprising as the US dollar is trading with a bid tone, gaining against all assets except the digital ones.
From a technical perspective, the price of Bitcoin has reversed its recent bearish trend after the market formed a falling wedge pattern. A bullish pattern triggered a sharp rally, and then the price consolidated for a few days in a bullish flag formation. The measured move points to $50,000 or more.