Bitcoin Hits Record-High Levels as ProShares ETF Launch
After trading as low as $30,000 earlier in the year, Bitcoin is back at the highs. It rose more than 50% in October and managed to reach a new all-time high yesterday.
The news that the Security and Exchange Commission (SEC) plans to approve the first Bitcoin ETF triggered a rally in the Bitcoin price. The market rose more than 50% in October alone, not backing down even a bit.
On Tuesday this week, the ProShares ETF started trading, and it hauled in $570 million. It shows the tremendous interest behind digital assets as the retail community finds ETFs as a cost-effective alternative to directly trading the underlying asset. ETFs track the movements of their underlying and are nothing but pooled investments.
It is, perhaps, ironic that Bitcoin surged to new all-time highs during the most severe energy crisis in decades. Traders surely remember that the last decline from above $60k to $30k was triggered by concerns that the energy used to mine cryptocurrencies is not renewable. Even Tesla's CEO, Elon Musk, suggested that Bitcoin's price was too high and declined shortly after.
Nowadays, with the price of energy surging, Bitcoin surges too. As a result, it becomes more expensive for miners to dig for their coins, and only a high price can help.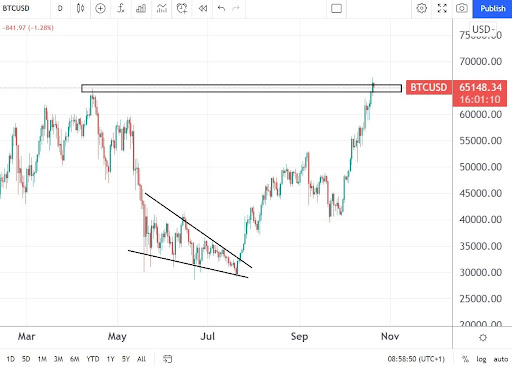 What Does the Technical Picture Say?
Bitcoin bottomed this year at the $30,000 level. Then, it formed a falling wedge pattern, a bullish reversal pattern, which took a few months to finish. After it broke the upper edge of the pattern, the price did not look back anymore.
Moving forward, $60k was the area where the price was rejected at its first attempt higher in March this year. As such, it would likely provide support on any possible dip.