Bitcoin Corrects from Highs Despite the Bitcoin ETF Attracting Over $1 Billion
Positive developments in the digital assets space failed to push Bitcoin much higher. As a result, the cryptocurrency made only a new marginal all-time high despite the huge popularity of the first Bitcoin ETF.
In October, Bitcoin enthusiasts saw their dream come true as the Security and Exchange Commission (SEC) gave its blessing to the first Bitcoin ETF. The ProShares Bitcoin Strategy ETF or simply BITO attracted massive interest from the retail community. As a result, it was the fastest ever when assets rose to $1 billion – just two days after its debut.
An ETF or exchange trading fund tracks the price of the underlying (i.e., Bitcoin), but it is a cost-efficient way to trade expensive assets such as Bitcoin. As such, the interest is justified and Bitcoin made a new all-time high shortly after the ETF started trading.
Bitcoin bulls see the price of one Bitcoin climbing to $100,000 sooner rather than later. Indeed, as the chart below shows, Bitcoin's performance in the last decade is unparalleled. With its ups and downs, the market trended higher, forming a series of higher highs and higher lows, typical in bullish trends.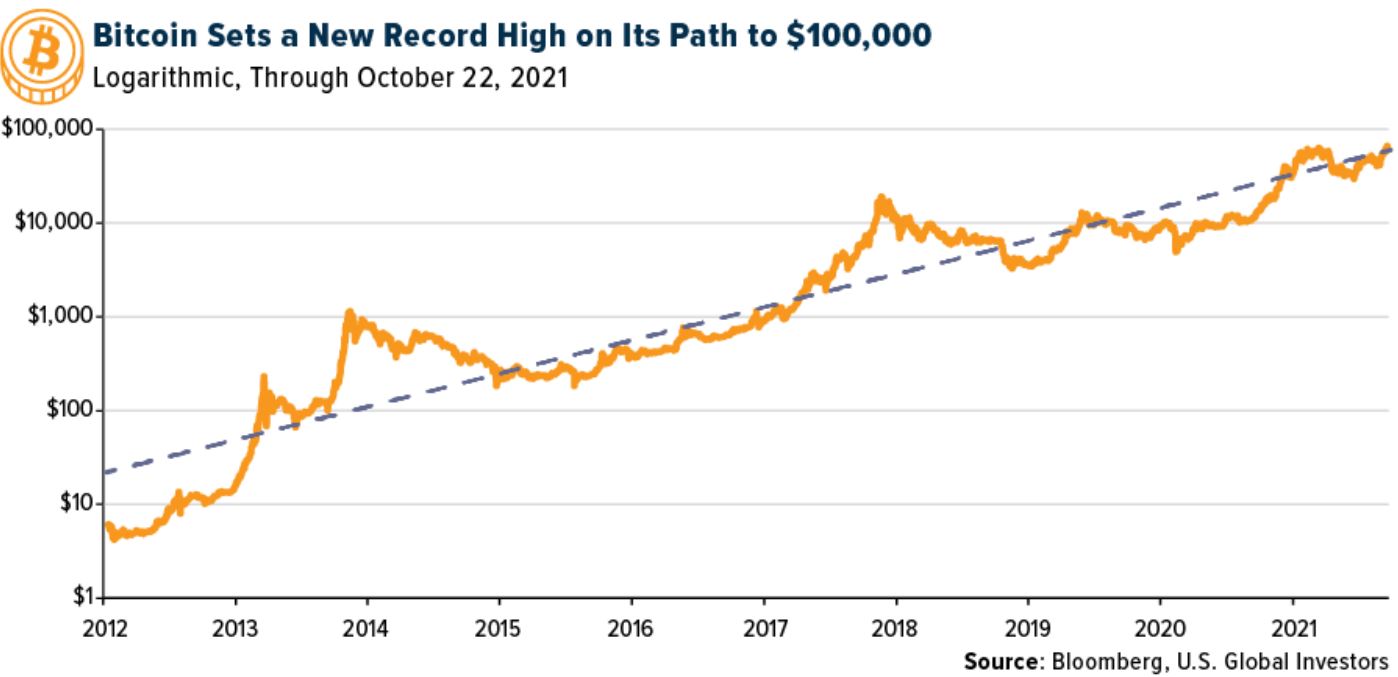 Bitcoin Got Rejected from All-Time Highs
The problem with Bitcoin (and with the rest of the cryptocurrencies) lies in its high volatility. The cryptocurrency rallied over 50% this October alone, and it is not the first time when it has done so. But volatility goes both ways, and thus the timing of buying and investing in Bitcoin is critical for future performance. Hence, investors may favor buying the dip and booking profits when the digital coin makes a new higher high.
Such a strategy will explain the recent correction from over $65k to the $58k area. But in the grand scheme of things, such corrections are normal. All in all, bullish developments happen in the cryptocurrency space, and Bitcoin's new all-time high confirms them.