Australian Dollar Declines Sharply Despite Better Than Expected Employment Data
The unemployment rate in Australia decreased in July, reaching 4.6% after 4.9% a month earlier. The market expected it to rise to 5% on new virus concerns. Yet, the better data did not help the Australian dollar, which had one of the worst weeks in 2021.
Employment numbers are one of the most important pieces of economic data in an economy. Typically, it is market-moving data, so traders tend to pay attention to how the actual numbers differ from the market expectations.
Australia and New Zealand alike face a new wave of COVID-19 economic restrictions. Lockdowns have gripped both economies lately, and thus the economic activity has been impacted negatively.
Because of that, the expectations for July employment data in Australia were quite bleak. The market participants expected the unemployment rate to increase to 5% from 4.9% in the previous month and for the economy to lose 42,500 jobs.
Instead, the unemployment rate came out at 4.6%, much better than expected. Moreover, the economy added 2,200 new jobs instead of losing 42,500.
Yet, the Australian dollar remained under pressure. In fact, it was after the jobs data release that the selling accelerated.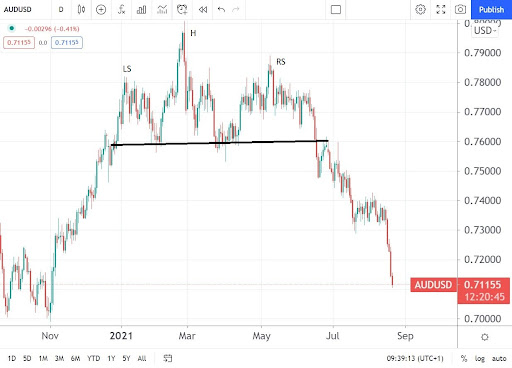 AUD/USD Head and Shoulders Pattern Completed
The main Aussie pair part of the FX dashboard is the AUD/USD. It started this year on a high note, reaching 0.80 before declining.
It trades now close to 0.71, almost one thousand pips lower, but traders cannot say they have not been warned. The daily time frame showed a head and shoulders pattern for a couple of months before the bearish breakdown started.
In other words, traders had all the time in the world to position correctly. Many would argue that this is the U.S. dollar's strength rather than Aussie's weakness. However, the EUR/AUD cross is telling us differently – it is up to one thousand points in the last months, a testimony that the Aussie dollar's weakness dominates.