A Technical Analysis of the EUR/USD Pair Ahead of the Jackson Hole Symposium
Before the Jackson Hole Symposium, EUR/USD struggles after failing twice at the 1.22 area. While below 1.20, it remains weak, as technical traders focus on a head and shoulder formation seen on the larger time frames.
The EUR/USD technical picture looks bearish, despite the strength seen in the U.S. equity markets. Or precisely because of that.
Typically, when the U.S. equity markets rally, the rally is accompanied by a weaker currency. As such, a lower dollar is fueling the equity markets rally.
But, the dollar remains relatively strong. As seen in the chart below, the EUR/USD pair trades at its 2021 lows.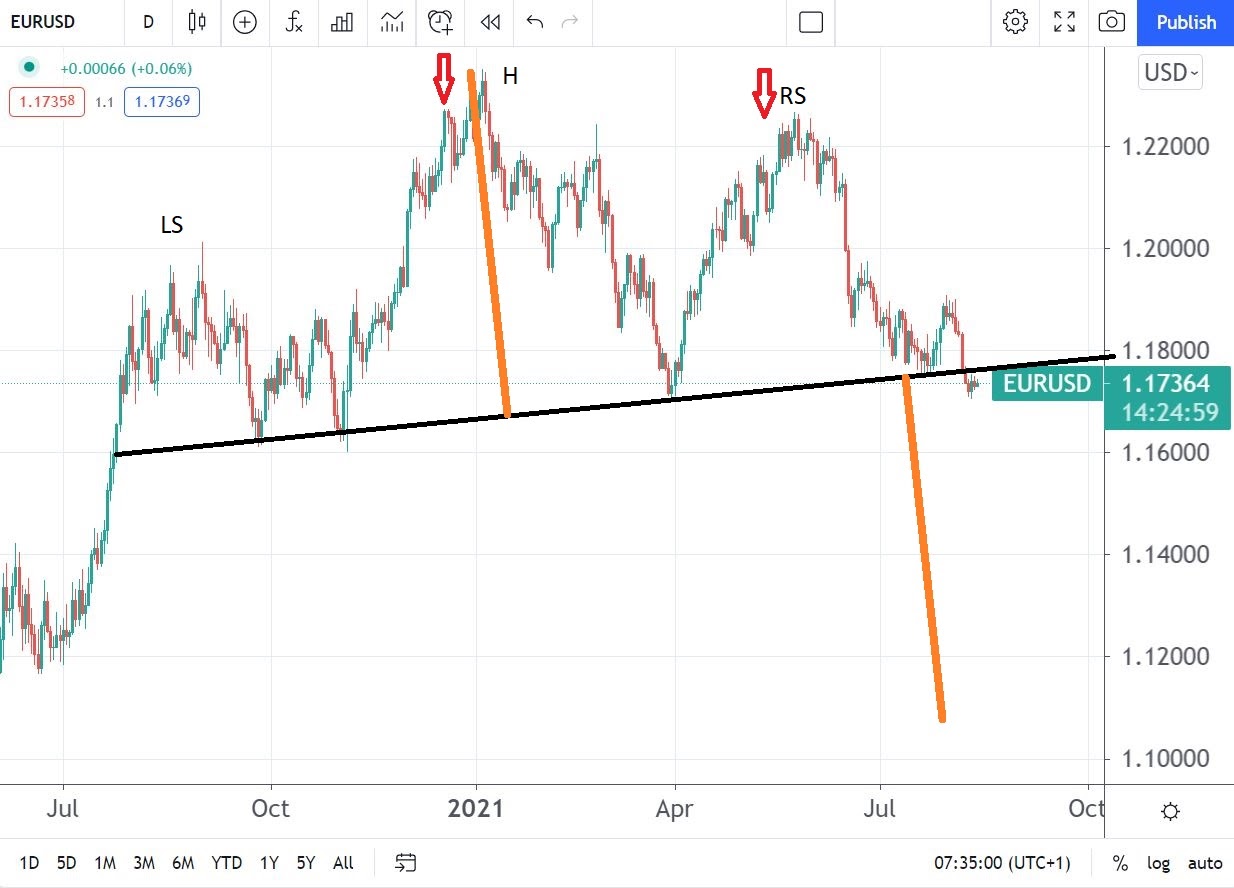 Head and Shoulders Formation Points to More Weakness
The EUR/USD pair started the year at its highs. Since then, it had declined and found support in the 1.18 area.
Currently, the market appears to have formed a head and shoulders pattern. Moreover, the recent price action this week suggests that the pattern's neckline was broken. As such, technical traders will focus now on the measured move, which points to a drop well below the 1.13 area.
The measured move, seen in orange on the chart above, is the distance from the head of the pattern to the neckline, projected to the downside from the neckline. Typically, the market travels at least 75% of the measured move, so bearish traders will target the 1.13 area.
Because there are no significant economic events until the Jackson Hole Symposium at the end of the month, the bias is that the EUR/USD will have a hard time bouncing. Also, the dynamic support offered by the head and shoulders' neckline (i.e., the black line on the chart above) is unlikely to hold as it was tested multiple times so far.
All in all, the EUR/USD remains weak despite ongoing strength in the U.S. equity markets. This should worry any EUR/USD bull ahead of the Jackson Hole Symposium.