A Preview of the Bank of England's September Meeting
There are no expectations of policy change from the Bank of England this week, but rising inflation and supply shortages remain a concern. Investors expect the first rate hike in 2022.
The Bank of England (BOE) is one of the central banks scheduled to release its monetary policy this week. It is not the most important central bank meeting of the week, but it should matter for British pound traders.
Every six weeks, the Monetary Policy Committee communicates the monetary policy to investors. This week, the market has no real expectations of a policy change, but the bank's view on rising inflation and supply shortages might move the British pound. The market expects the first rate hike to be delivered somewhere in 2022, although the actual timing remains uncertain.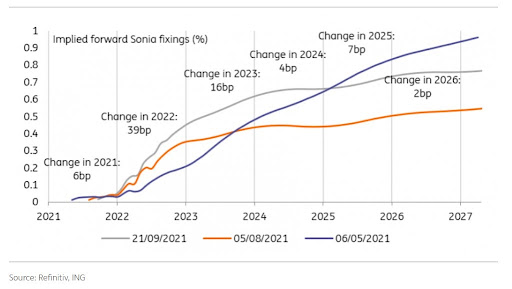 What Changed Since the Last MPC Meeting?
The BOE has the mandate to bring inflation close to its 2% target. But inflation in August surpassed the target by a lot, rising to 3.2% from 2% in July. Sure enough, there is an explanation for the rise – the Eat Out base effect, an incentive during the COVID-19 pandemic, but what if this rise is not a one-off, as many expect?
Besides inflation, the BOE will likely signal concerns of labour and supply shortages. Also, retail sales in August dropped for the second consecutive month, down 0.9% following -2.8% in July.
All in all, expect an interesting outcome for the British pound traders, especially in the aftermath of the Federal Reserve of the United States press conference. Because the Fed's meeting is far more important for financial markets, the British pound pairs' volatility remained somewhat subdued ahead of the meeting. With that out of the way, we may witness some interesting moves ahead at the end of the trading week.