A Preview of the Bank of Canada's Monetary Policy Decision
The Bank of Canada (BOC) is one of the three central banks scheduled to release their monetary policy decision this week. The market expects the tapering to be paused in September but to resume in the following months.
Policy normalisation is well underway in Canada. The central bank is the first one in the developed world that started to taper its asset purchases, a move that sparked intense volatility in the currency market.
Today's monetary policy statement will be closely scrutinised by traders. The BOC signalled that it will start raising rates this year, but the latest developments showed poor economic data that may alter the bank's plans.
Rising COVID-19 cases do not help. In addition, there is also the negative surprise delivered by the latest GDP data, coming at -1.1% in the second quarter on expectations of +2.2%.
Moreover, the federal elections are scheduled for the 20th of September, and the central bank will likely stay put ahead of the event. Yet, the case for tapering to continue remains strong, as inflation is well above the BOC's target.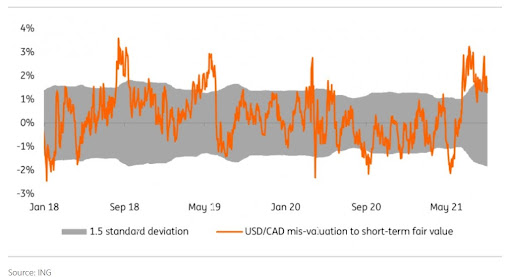 The Canadian Dollar Declined Despite BOC's Tapering
Traders have been taken by surprise by the recent Canadian dollar (CAD) fluctuations. If the currency reflects the economic strength and the central bank's decisions, then the CAD should have appreciated, but it didn't.
While the BOC tapered the asset purchases from $5 billion to $2 billion per week, the CAD dropped against the U.S. dollar. The USD/CAD pair rose almost ten big figures (one thousand pips) in the meantime, although tapering should be positive for the currency as the central bank removes the accommodating conditions.
Traders should pay attention to how the CAD reacts to tapering because the southern neighbour, the United States, also prepares to taper. If the CAD's reaction tells us anything, it is that financial markets may be surprised by the twists and turns in the world's reserve currency after the tapering is announced.
All in all, Canadian traders are in for an interesting week and month. Today is the BOC decision, the jobs data is scheduled to be released next Friday, and the federal elections are due in the second half of the month. It is no wonder that the USD/CAD already trades outside 1.5 standard deviations from the norm.