A Bearish Case for the Euro
Short positions in the euro increased to an 18-month high as leverage funds pushed for further decline. The tight German election race is one reason for shorting the common currency. Which euro pair is most vulnerable?
The euro is under pressure, as reflected by the EUR/USD exchange rate, down considerably on the year. With less than three months left this trading year, leverage funds increased their euro short positions to an 18-month high – more than 47,000 contracts bet against the common currency.
Why is everyone bearish, and is this a contrarian indicator?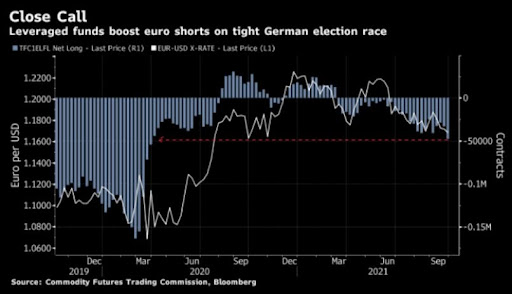 Uncertainty from Tight German Election Race
Europe lost one of its most charismatic leaders, with a great image and support from both inside and outside the continent. The void left after Angela Merkel's stepping down as Germany's Chancellor is difficult to fill, and the tight German election race suggests it may take weeks, if not even months, until the position is filled.
Investors fear that such uncertainty will affect the largest European economy's performance, and thus the euro was sold on every bounce. Also, the Federal Reserve in the United States prepares to remove the accommodative measures, while the European Central Bank is in no hurry so far. In that case, we have an explanation for the pressure on the EUR/USD exchange rate.
EUR/JPY Looks Most Vulnerable
But the EUR/USD might not be the most vulnerable in the months ahead. The chart below shows the euro pairs' performances in 2021.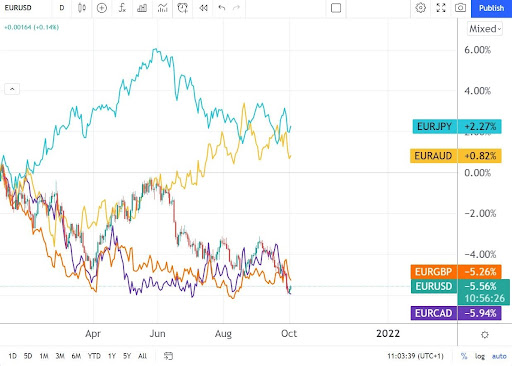 We see the EUR/GBP, EUR/CAD, and EUR/USD, all down over 5% during the year. However, two outliers remain – the EUR/AUD and the EUR/JPY crosses.
Out of the two, the EUR/JPY is actually up on the year, a little over 2%. But it is this pair that is most vulnerable, especially in the context of a declining stock market.
The U.S. stock market indices declined in September. If the trend continues in October, the EUR/JPY is the favourite pair to short, giving the ongoing pressure on the euro pairs and the Japanese yen's safe-haven status.